EXPERIENCE A DREAM
In the heart of Salento, a stone's throw from Lecce
Just 3 km from the city, immersed in nature typical to the Mediterranean, surrounded by centuries-old olive trees, stands Masseria San Lorenzo, a manor farm in Lecce dating back to the 16th century; the careful attention to detail during its restoration, faithful to the original architecture, has given the structure back its charisma of more than 500 years of history, distinguishing it from others by its simple yet elegant style.
An ancient Courtyard and a spacious barnyard, at one time used to process wheat, offer an exclusive setting which will render your special day unforgettable. Following the gurgling of the water, you come to the quarries, from which the stones giving life to the Masseria were hewn, and from the recovery of which has been created an enchanting garden in which you can stroll among the rocks and the small paths, inebriated by the aromas of nature and transported by the sound of the waterfalls.
One valuable part of the structure is the huge, ancient cistern, which has remained unchanged over time and has been opened for visits, with its bewitching and mysterious atmosphere.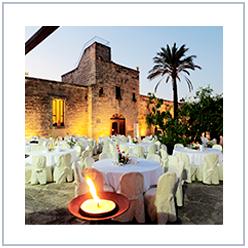 CHARMING ENVIRONMENTS
Let's choose the formula best suited for your event together.
Masseria San Lorenzo will offer you unique emotions and unforgettable impressions for any special occasion: family celebrations, business events or your wedding will be organized with passion and commitment, in order to offer you the best solution to your needs and tastes.
Should you choose to celebrate your wedding by day or by evening, we will recommend the most suitable formula for organizing an exclusive event that match your desires, choosing between the various spaces, indoor and outdoor. Besides the reception hall, which is actually ideal for indoors for elegant lunches and dinners, we also have a large outdoor courtyard, perfect for spring or summer celebrations. You could serve the welcome cocktails in the unique setting of the quarries, and the appetizers in the ancient barnyard.
Thanks to the versatility of our spaces, we can realize any type of wedding and event, realizing your ideas with professionalism. Our philosophy is: every desire of the bride and groom is a dream to realize!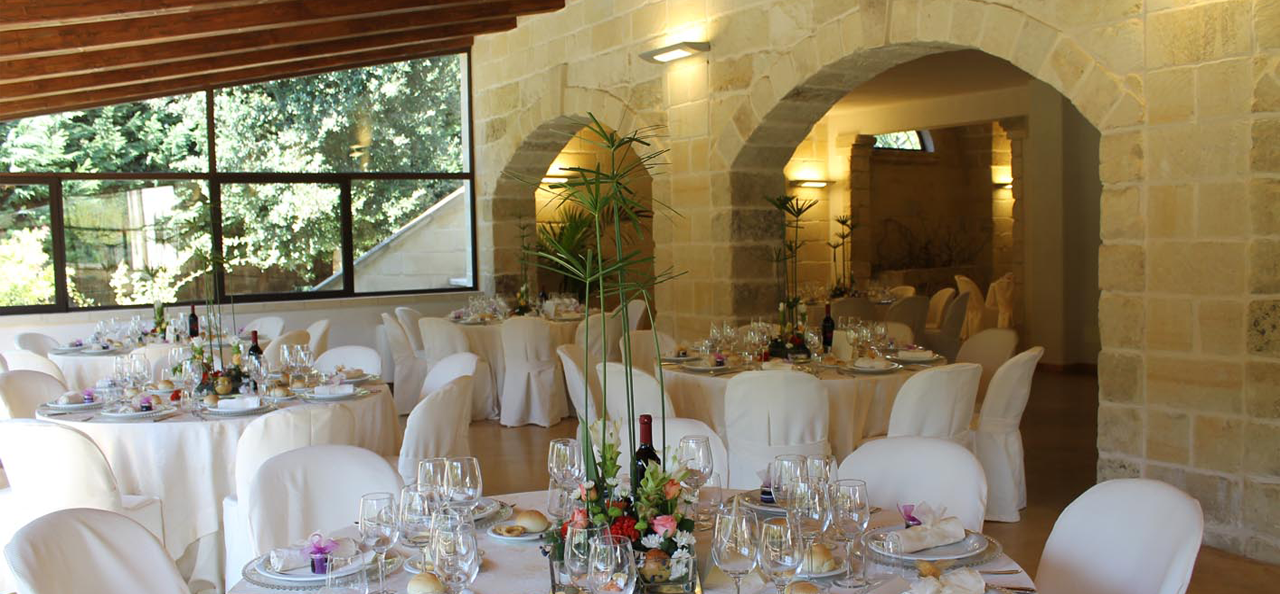 The hotel has a spacious and luminous hall; the perfect balance between simplicity and elegance. Fully air-conditioned, it has a maximum capacity of 300 seats.
The colors of the stone, typical to Lecce, distinguish the walls of our halls, giving the room a characteristic warmth while guaranteeing plenty of versatility for any decoration choice.
The large windows facing the lawn and a pergola adorned with ancient columns lend a striking sensation of continuity with the exterior, creating a lovely atmosphere which your guests will most certainly appreciate.